This is the fourth installment of a series highlighting the top innovations in education technology.
Read Part I - Internet of Things
Read Part II - Educational Gaming
Read Part III - Avatars
What is the impact of technology on education? How can teachers leverage emerging technologies to impact student achievement?
Virtual Reality

What is virtual reality?
Virtual reality is a computer-generated simulation of an image or environment that can be interacted with. The virtual reality market is expected to grow to $407.51 million and reach more than 25 million users by 2018.
Virtual reality has multiple applications for teaching and learning. Virtual reality can deliver the best practices of both real-world classrooms and online distance learning in one single platform. Teachers use voice and video, PowerPoint and other technologies such as private messaging to simplify teaching and allow students to interface and socialize seamlessly. Because of the immense integration of technology, virtual reality is convenient for teachers and cost effective for district leaders.
Impact on Student Learning
A study analyzed the effectiveness of virtual reality-based instruction compared to traditional instruction. Analyses of 63 experimental studies that looked at learning outcomes of virtual reality-based instruction in K-12 suggested that virtual reality-based instruction is an effective way to deliver instruction.
Dr. Conor Galvin at the University College Dublin School of Education and Lifelong Learning found that virtual reality tackled students' social issues and that students struggling to become part of the class group were able to become accepted by their peers because of their technology skills.
Examples of Use
Microsoft HoloLens enables holographic computing that allows the user to move freely and interact with holograms. Holograms such as the ones developed by Microsoft allow teachers and students to faile in relatively low-stress environments. In K-12 education, we forsee holograms as an incredible tool for teacher training and also for use in laboratory settings. A teacher can lead his or her students through a dissection in biology or explore physiological mechanisms in the human body. Microsoft HoloLens headsets cost around $400.
Cost
Cost for virtual reality programs varies based upon product and scale. Building a platform can cost upwards of $250,000 and using VR headsets can cost $400 each.
Read the articles below about virtual reality:
http://www.hypergridbusiness.com/2014/09/5-ways-virtual-reality-will-change-education/
http://www.scienceclarified.com/scitech/Virtual-Reality/The-Virtual-Classroom-Virtual-Reality-in-Training-and-Education.html
http://www.engadget.com/2015/07/08/microsoft-hololens-medical-student-demo/
Stay tuned for our next post about the use of Robotics in education.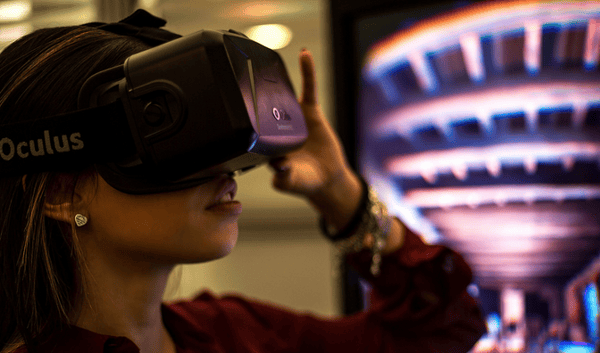 Image Source: Flickr
All rights reserved by ETT s.p.a.