This is the first installment of a series highlighting the top innovations in education technology.
We are exploring the impact of technology on education and how technology has changed education. Creating a 21st century school requires educators to address a rapidly changing world filled with new problems as well as exciting new possibilities through an innovative learning environment. Innovations in technology offer teachers and school leaders the opportunity to revolutionize and personalize learning for students. Technological tools can support teachers in finding innovative ways to reach students and drive student achievement.
What is The Internet of Things?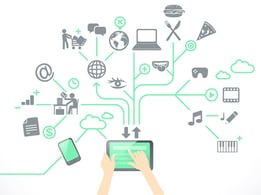 Experts have predicted that the Internet of Things—a system in which objects can communicate internally or with other machines—will transform the way we live our lives. Gartner, Inc. forecasts that 4.9 billion connected things will be in use in 2015, up 30 percent from 2014, and will reach 25 billion by 2020.
Students can learn to work with the Internet of Things to create their own machines that interact with their environments using innovative and inexpensive interfaces.
Impact on Student Learning:
Incorporating just a few connected devices creates the possibility for more dynamic interventions, more advanced classroom techniques and even a modified role for teachers that is more focused on individual students. By shifting processes and procedures to the background, the teacher has fewer responsibilities as an active "manager" in the foreground – which means more time to craft a personalized learning experience.
Beijing Middle School created an integrated, interactive intelligent system based on Microsoft technologies that connects dozens of devices — 50 digital whiteboards with classroom all-in-one televisions and 150 teacher tablets — with a back-end system. The appealing new multimedia classroom experience keeps students more engaged, and helps teachers easily organize and present learning materials, saving them time — and saving the school money on maintenance and equipment costs.

According to the 2013 Digital Future Report, 40 percent of parents surveyed reported that their children had experienced an increase in grades through the use of the Internet.
Examples of Use:
As students walk into the classroom, attendance could be logged automatically using a device such as the Nymi, a wearable "smartband" that uses the wearer's ECG pattern to authenticate identity. When the students take their seats, a beacon might push a warm-up exercise directly to their smart surfaces.
Teachers are freed from managing classroom procedures to focus more fully on students – and perhaps focus more incisively too. Neurosensors, akin to Interaxon's Muse, could provide insight into students' cognitive activity using EEG technology that measures the rate of brain waves like one might measure a pulse.
And when it comes to classroom discipline, teachers could send a "haptic" vibration – similar to silent notifications on mobile devices – to a student's wearable or tablet, redirecting her attention or behavior while helping to reduce the need for direct conflict.
Cost:
The costs of education for the Internet of Things are relatively low to the value produced.

Schools typically have finite resources, meaning the more they streamline day-to-day operations, the more money can be spent on actually teaching students. Time-consuming activities like manually taking attendance and bringing the information to a central office can be eliminated with the connected devices that send the data where it needs to go instantly.

The Internet of Things can also help cut energy costs. For example, the New Richmond Exempted Village Schools, located in Tipp City, Ohio, save $128,000 annually due to an energy conservation program that included building automation retrofits and more accurate monitoring of energy usage.
CONCLUSION:The right "mix" of technological tools depends on the overarching goal of the school and its students and leaders. In order for innovations in technology and ICT to be effective, they must be integrated with the school's pedagogy; teachers must be adequately trained in how to integrate technology seamlessly into daily instruction.Stay tuned for Part II, where we will cover avatars and virtual reality in the classroom! To learn more about The Internet of Things, we recommend:
http://www.cisco.com/web/strategy/docs/education/education_internet.pdf
https://edtechdigest.wordpress.com/2015/05/13/iot-in-education/
http://government-2020.dupress.com/can-internet-things-make-education-student-focused/
---
How has your school or district incorporated technology into student learning? What are the benefits of using the Internet of Technology in education?
Stay tuned for our next post about Educational Gaming.