New Solutions for Education

Our Vision
The Education Partners' vision is for high-quality education to be within the reach of every child. Drawing upon the global expertise of the world's leading education change-makers, we design evidence-based solutions for education systems around the globe, providing in-depth, proactive initiatives based on local context that lead to increased student outcomes.
We know the importance of quality education, which impacts not only a student's future success but also national economic outcomes. Increasing educational attainment by a single grade level boosts lifetime income by 10-20% for girls and 5-15% for boys. If all students in low‐income countries left school with basic reading skills, 171 million people could be lifted out of poverty, which is equivalent to a 12% drop in global poverty.
The Challenge
Yet, 550 million children around the globe are failing to receive a quality 21st century education. There are 340 million students of school-going age not in school, and many children who are in school never achieve basic numeracy or literacy: 50% are failed by underperforming systems.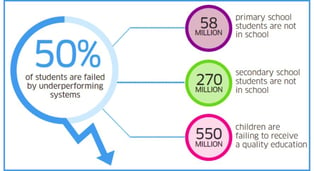 Why do we accept 58 million primary and 270 million secondary students out of school? Why do we continue to allow students to remain in failing schools?
Change is Possible
We know that change is possible; education systems around the globe have shown dramatic improvements in as little as four to six years. Following literacy reforms, Minas Gerais improved literacy levels and rose from 5th to 1st place among Brazilian states on national assessments. In the Western Cape of South Africa, the inequality gap was narrowed among third graders in just four years.
Why have we not applied the lessons from the world's top-performing and fastest-improving education systems? Solutions to the education crisis exist, but we need a leader to drive change across systems and provide a global solution.
The Education Partners
Passionate education entrepreneur and philanthropist Sunny Varkey, who believes in the power of education to reduce poverty, prejudice and conflict around the world, understands the scope of the global education crisis and the need for innovative and supportive solutions. As the Founder and Chairman of GEMS Education, the world's largest provider of private schools, and Founder of the Varkey GEMS Foundation, a not-for-profit initiative chaired by Bill Clinton that helps impoverished children gain the skills they need to reach their full potential, Mr. Varkey recognized the need for an established leader to support education systems in their transformation journey, which led to the creation of The Education Partners.
Drawing upon Chairman Varkey's experience building and managing high-quality schools around the world, The Education Partners exists to leverage international expertise in order to give the gift of high-quality education to every child. We support large networks of underperforming schools and create synergy amongst the world's global education leaders to solve local problems. The Education Partners is committed to strengthening capabilities, driving rapid, sustainable and systemic change to deliver quality education for all. We are the link between system underperformance and the reform initiatives necessary to revitalize communities, at a local and global level. Through enriched educational opportunities and the expertise of world leaders, we can develop community-focused solutions to the global education crisis, providing all students with the opportunity to succeed.