How Mobile Technology Impacts Education
We are exploring innovations in EdTech!
This is the seventh installment of a series highlighting the top innovations in education technology.
Read Part I - Internet of Things
Read Part II - Educational Gaming
Read Part III - Avatars
Read Part IV - Virtual Reality
Read Part V - Robotics
How can educators use mobile technology and apps in the classroom to enhance student learningl? Teachers are using mobile technologies to engage students - and parents - in classroom activities.
Mobile Technology and Apps
Schools are moving toward mobile learning in the classroom as a way to take advantage of new electronic devices that offer teachers and students a more flexible approach to learning. Mobile technologies and applications amplify the essential experiences for a school of the future and challenge students to engage in an active way with the world -- to observe, record, question and share.
Impact on Student Learning
According to the Joan Ganz Cooney Center, after using an educational iPad app, there was an average 27-percent increase in vocabulary among 5-year-olds and a 17-percent improvement among 3-year-olds
Fifth graders who regularly played the iPad game Motion Math for 20 minutes per day over a five-day period increased their test scores by 15 percent, on average
Examples of Use
Bella Vista High School in California uses Collaborize Classroom to set up a network where teachers can discuss topics, trends and student progress with students, parents and other teachers. The online platform lets teachers extend the classroom discussion outside of normal school hours and engage with parents
Google Apps for Education, a free suite of productivity tools (including Gmail, Calendar, and Drive), helps keep parents in the loop on their children's progress in class and any challenging areas that need to be addressed
Cost
Mobile technologies are generally low cost for device, infrastructure and maintenance, especially when considered in the context of pedagogical importance
Do you use apps in the classroom to support your students? Which apps do your students use most frequently? What challenges do you face?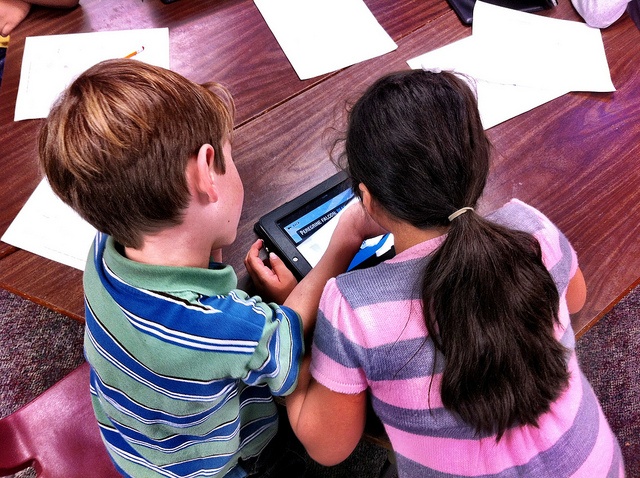 Cover Photo Source: K.W. Barrett