Makerspaces Are Changing Education
We are exploring innovations in EdTech!
This is the sixth installment of a series highlighting the top innovations in education technology.
Read Part I - Internet of Things
Read Part II - Educational Gaming
Read Part III - Avatars
Read Part IV - Virtual Reality
Read Part V - Robotics
What is the impact of technology on education? How can teachers leverage emerging technologies to impact student achievement?
Makerspaces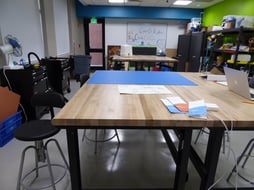 What is a makerspace? A makerspace is a physical location where people gather to share resources and knowledge, work on projects, network and build. Makerspaces provide tools and space in a community environment. Makerspaces are an ideal learning environments to imagine, design, prototype, create and iterate in hands-on, project-based learning environments.
Impact on Student Learning
Allowing children to experiment, take risks and play with their own ideas gives them permission to trust themselves and they begin to see themselves as learners who have good ideas and can transform those ideas into reality.

Innovation and collaborative problem solving are core skills for virtually any STEM career.

Makerspaces allow students to take control of their own learning as they take ownership of projects they have not just designed but defined. Students appreciate the hands-on use of emerging technologies and a comfortable acquaintance with the kind of experimentation that leads to a completed project.
Examples of Use
At Wheaton College, the WHALE Lab (Wheaton Autonomous Learning Lab) is an interdisciplinary makerspace where students embroider, solder, weld, sculpt, or otherwise design and manufacture creative projects. The emphasis is on community-provided mutual assistance, and the output from student activity might be a robot or a knitted sweater that lights up.
At the Georgia Tech Invention Studio, students can even apply for project funding in the form of Maker Grants. Multidisciplinary projects are encouraged, and winning teams must work on their projects at the Invention Studio. Completed projects are presented as portfolio pieces at the Georgia Tech Capstone Expo.
Cost
The cost in Makerspaces rests in the hardware such as 3D printers, Laser Cutters and the materials to make them function including dedicated computer terminals. Game Based Learning programs and Program language supports are low cost. Costs can run from $50,000 to over $

100,000.
Does your school have a Makerspace for its students? What obstacles are there for implementation?
Cover photo: Castlewood Library

Source: Ellen Forsyth