GEMS Education and Carnegie Melon University Partner to Reimagine STEM Education and Robotics for PK-12 students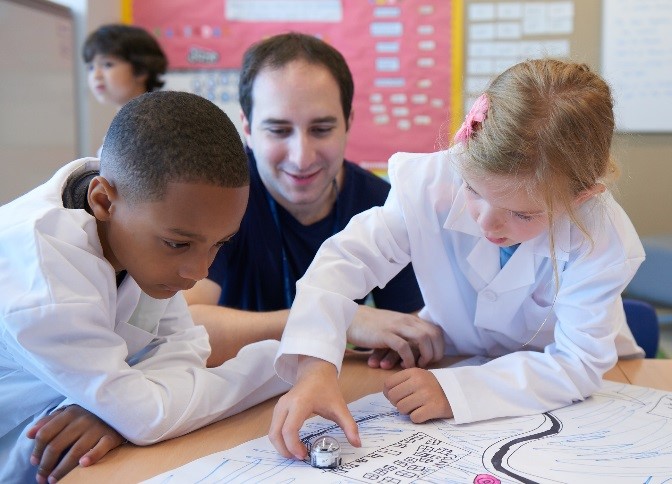 Partnership to create 'think tank' for PK-12 Students
Focus on robotics includes novel integration with humanities programs
STEM-based research program build excitement in sciences; particularly important for girls
New York, October 20, 2016 – GEMS Education and the Community Robotics, Education and Technology Empowerment Lab (CREATE Lab) at Carnegie Mellon University are partnering to empower elementary, middle-school and high school students through the development of a STEM-based learning laboratory and an integrated curriculum encouraging socially meaningful innovation through robotics and other technology tools. The partnership will empower students with technology, enhance teaching and enable active learning with a truly international perspective.
GEMS Education, with schools across 19 countries including the United States, Dubai, Singapore and Switzerland, is a world leader in cutting-edge education and empowers students through rich learning experiences and the purposeful use of technology to prepare them to be successful life-long learners in an ever-changing global society.
"Carnegie Mellon University and GEMS Education share a common vision and strategic mission committed to the belief that education is a powerful catalyst that will change the world for the better," said Sunny Varkey, Founder and Group Chairman, GEMS Education. "Our shared vision engages students in realizing academic excellence through a values-driven approach, carefully constructed to develop in each child the character, creativity, personal leadership and entrepreneurial skills necessary to become future global citizens and world leaders."
GEMS Education will develop programs focused on robotics to teach students technological advancements and design issues in contextual appropriate ways. An 'arts and bots' program will integrate science with humanities courses to emphasize socially meaningful innovation through robotics, where students can combine craft materials and robotic components to build and animate robots.
"GEMS Education is dedicated to improving the state of education thoughtfully and equitably for all learners, and CREATE is delighted to partner with an institution with reach that can help us scale Technology Fluency and Robotics for Humanity to a worldwide audience," said Illah Nourbakhsh, Director of CREATE Lab and Professor of Robotics. "This partnership will be a laboratory for long-term innovation, refinement and scaling to genuinely empower teachers at all participating schools."
The CMU-GEMS partnership is grounded in research driven by innovation in educational technologies borne in CMU's labs and workplaces complemented by innovations in pedagogical approaches and practices in GEMS schools and classrooms worldwide.
"We fully envision our partnership as a global think tank; one that promotes the exchange of ideas across cultures. The overall goal is to convene for the sole purpose of sharing and advancing our combined knowledge and expertise to put high quality education within the reach of every child," said Denise Gallucci, Chief Executive Officer, GEMS Education – Americas.
The global perspective embodied in GEMS Education schools is unmatched, allowing CREATE Lab to expand beyond its borders in a profound way. CMU CREATE Lab will establish GEMS World Academy in Chicago and GEMS Nations Academy in Dubai as Creative Technology Learning Labs. The partnership will develop and validate creative technology best practices within each school and further engage their communities with teacher professional development, equipment and resources lending.
CMU's partnership with GEMS Education gives the CREATE LAB an opportunity to expand globally and connect with professors, researchers, educators and students with a truly international perspective. Together, they will work to blend research and STEM innovations in emerging technologies through specific projects co-constructed by the GEMS School communities and CREATE Lab researchers, engineers and scientists. In turn, the partnership will also allow GEMS to leverage the innovative technology-enhanced PK-12 learning solutions of the CREATE LAB to help prepare all young people to be the architects of their future as well as to contribute to their communities at the local, regional, national and global levels.
The CREATE Lab, part of CMU's Robotics Institute, partners with various schools across the United States to help teachers incorporate technological tools into their practice, and empower learners to employ technology for social good.
About GEMS Education:
Founded in 1959, GEMS Education is the world's leading education company and through its thought-leadership and network of world-renowned experts, GEMS continues to be at the forefront of PK-12 educational innovation. GEMS has a global network of award-winning international schools spanning four continents, educating more than 250,000 students from 115 countries, and employing 20,000 education professionals. With countless opportunities for interactive studies with their peers around the world, GEMS students expand their knowledge and broaden their experiences with other cultures. This new partnership will leverage global interactions at a scale and pace.
About Carnegie Mellon University:
Carnegie Mellon is a private, internationally ranked research university with programs in areas ranging from science, technology and business, to public policy, the humanities and the arts. More than 13,000 students in the university's seven schools and colleges benefit from a small student-to-faculty ratio and an education characterized by its focus on creating and implementing solutions for real problems, interdisciplinary collaboration and innovation. The work of CMU's CREATE Lab builds self-sustaining communities of learning, expression and technology empowerment, transforms student achievement and, ultimately, grows tomorrow's innovators.