Carnegie Foundation Summit on Improvement in Education
The Education Partners recently attended the Carnegie Summit on Improvement in Education, an annual convening of innovative thinkers and dedicated practitioners who are working together to transform teaching and learning.
The 2016 Carnegie Foundation Summit on Improvement in Education offered inspiring keynotes, sessions with actionable takeways and the opportunity for our team to connect with others in the community of improvers and innovators.
Alex Pentland of MIT inspired participants through his in-depth research studies of how students learn, focusing on the effects of networks. Pentland's pioneering work in organizational engineering and computational social science has the capacity to transform the way we think about human behavior and decision-making, both as individuals and in networks.
We heard from district superintendents across the United States who have overseen incredible changes in education, including Eric S. Gordon, CEO of the Cleveland Municipal School District and Long Beach Unified School District Superintendent Chris Steinhauser, who has served in his role for fourteen years. Both leaders emphasized the importance of leadership continuity in driving long-term sustainable change and advocated for ample community engagement and trust as integral to the turnaround process.
We look forward to implementing the lessons learned about improvement science and the role of teachers and leaders in instituting large-scale change in education. Improvement science in education takes failure and turns it into evidence for improved practice. We need to accelerate how the education field learns to improve.
Minding The Gap: STEM Opportunity, Choice and Achivement
Our team presented our in-process research study that utilizes qualitative and quantitative research methodology to understand STEM opportunity, choice and achievement in K-12 U.S. schools. We examined existing large scale secondary data sources including the National Assessment of Educational Progress (NAEP), the High School Transcript Study (HSTS) and the New York State Testing Program (NYSTP). We conducted side-by-side comparisons of state level data for Grade 4 and Grade 8 NAEP and NYSTP data for math and science assessments and examined state-level high school and district level results.
Generally, state-level data shows Grade 4 and Grade 8 students score better on the NAEP assessment than they do on the NYSTP. This suggests that the NYSTP may be more rigorous than the NAEP assessment or that curriculum and instruction may be more aligned to the NAEP assessment.
In New York State, many high schools use the NYSTP as a way to assess and predict student ability to successfully participate in more rigorous coursework. These so called "gate-keeping" policies are intended to place students in courses best matched to their past achievements. Preliminary research suggests it is more difficult to achieve proficiency on the state examination as compared to the NAEP exam. Thus, using NYSTP as a means to place students in courses may unfairly exclude NYS students from science and mathematics coursework that they are qualified to complete, as per proficiency demonstrated on the NAEP assessment and U.S. peers.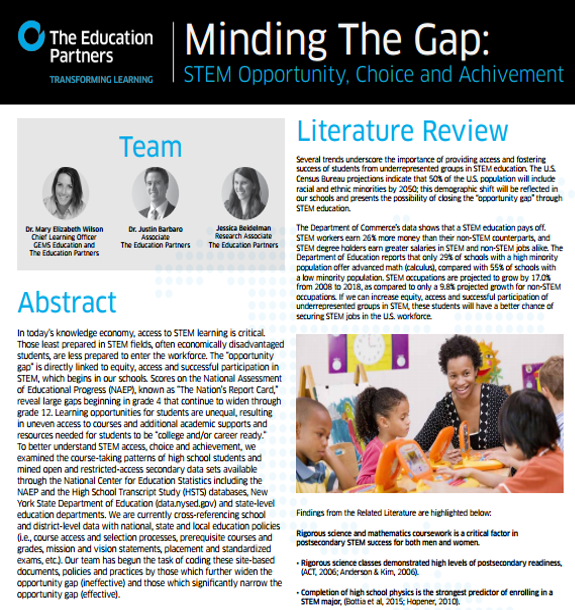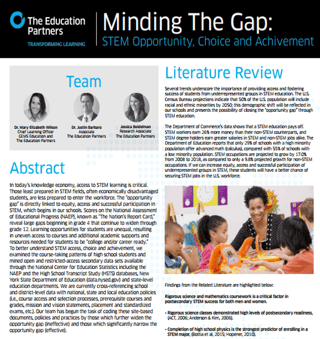 Download our poster from the Carnegie Summit: The Education Partners Research: Minding the Gap