This is the third installment of a series highlighting the top innovations in education technology.
Read Part I - Internet of Things
Read Part II - Educational Gaming
What is the impact of technology on education? Creating a 21st century school requires educators to address a rapidly changing world filled with new problems as well as exciting new possibilities. Innovations in technology offer teachers and school leaders the opportunity to revolutionize and personalize learning for students.
Avatars
What is an avatar? An avatar is a figure or character that can be created and customized using virtual reality. Avatars can be used for teacher training. Instructional coaches use a virtual classroom to train teachers-to-be by helping them master strategies like higher-level questioning or behavior management. Avatars imitate different types of students to help teachers practice classroom management and relate to their students.The trainee teachers stand in front of a projection screen on which they see avatars that are being controlled, or acted out, by actual students trained to behave a certain way.
Avatar-guided programs allow teachers to train in a virtual classroom without the risk of making mistakes in front of real students. SimAULA, a platform developed by the UK, Spain, Bulgaria, Greece and Italy, allows teachers to control their own avatar in a teaching video game. Students are programmed to respond in specific ways, acting more conflictive with poor teacher choices.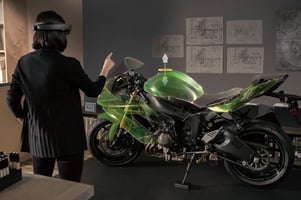 Impact on Student Learning
Studies conducted by UCF faculty have shown that after four 10-minute sessions in the TeachLivE simulator, teacher candidates have changed the way they operate in the classroom.


By imitating the layout of campus and classrooms, students feel more engaged and enthusiastic, even if they're learning independently at home. This concept of immersive environments applies not only to universities but also to all sorts of online learning; it enables students to be a part of a specific environment instead of feeling like they are learning in isolation.




According to a Stanford study, avatars increase trust in information sources, and research shows that when characters guide interactions, people trust the information more than in identical interactions without characters.
Examples of Use
Since 2012, the Ole Miss School of Education has been one of a growing number of institutions around the country using TeachLivE, a classroom-simulation program designed by education and computer science faculty at the University of Central Florida (UCF).

Avatars like

GoAnimate

allow the user to program several characters within a single lesson narrative. When incorporating avatars into a lesson they can be used to define terms, give directions to an activities or reinforced content.



Cost
Creating avatars and virtual reality programming across a school has initial start-up costs as well as fixed and variable costs that can be reduced as the programming is used over time. Headsets for teachers can cost around $400 each and building the virtual reality platform can cost over $200,000.

The simulation lab at University of Central Florida is sponsored by a $1.5 million investment from the Bill and Melinda Gates Foundation. As the technology is continually refined, costs can be expected to decrease significantly. Some sources indicate that software that can complete full body scans and create avatar simulations can be as low as $10, $50 or $100. Virtual training has the capacity to reduce long-term costs as money is redirected from more expensive and prolonged training.
Read the articles below about avatars:
http://www.aspinelearning.com.au/content/Use-and-benefits-of-Avatars-in-virtual-learning